Landscaping and Lawns - Items tagged as "Weed killer"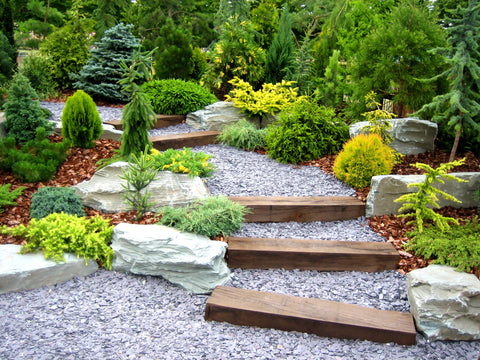 Weeds and invasive plants are the bane of every landscaper, whether in a small backyard or large park. Hand weeding takes endless amounts of time. Controlling invasive species is nearly impossible. Chemical herbicides are toxic. Black plastic is bad for the environment. There's a better way. Mulch Organic gives landscapers a safe, effective, eco-friendly alternative. The OMRI Listed organic paper weed block offers many advantages:
Saves Time and Money. Once you lay down Mulch Organic, you're done with weeds. No more hand-weeding or spraying. You can even apply Mulch Organic right over existing weeds or invasive plant roots, and smother them with a single stroke.
Promotes Healthy Plants. Mulch Organic allows plants to establish without competition from weeds. What's more, because the material is porous, it's easy for water and nutrients to reach plant roots. And unlike black plastic, roots aren't "cooked," allowing them to support healthy plant growth.
Provides Lasting Protection. Durable Mulch Organic lasts until your landscape plants are well-established and can crowd out weeds on their own. It maintains its integrity when wet, and gradually decomposes as your plants establish, adding beneficial organic matter to the soil. For over 12 months of weed protection, use a double layer of WeedGuardPlus.
Options for Every Use. Whatever your landscape application, there's a Mulch Organic product right for you. Choose from the following:
Natural Organic Rolls - come in a variety of widths and lengths to suit any size garden.
Natural Organic Pre-Punched Rolls - save time with evenly spaced pre-punched planting holes in a variety of configurations.
Natural Organic Squares - with convenient centre holes and side slits slip right around berry plants.
Fortified Mulch Organic Products -include weed block enriched with a slow release fertiliser for optimal growth, with humic acid to improve soil tilth and fertility, or with calcium to protect against blossom end rot and other diseases.
No matter which product you choose, our How To Tips Page make application easy. Give it a try, and watch your plants flourish, weed-free!
Landscape Application Tips
Prepare the area by removing unwanted rocks and debris
No need to de-weed! The paper mulch goes directly over weeds or grass
Cover entire planting area with the paper mulch product
For Landscaping the ideal choices are Heavy Weight plain or creped (for easy contouring) The paper is engineered to be 100% biodegradable, for extended season (12+ months) use apply 2+ layers
Use sharp scissors to trim product to your garden space: it's easy to trim the paper to fit around trees and shrubs
Use a planting dibble to punch a hole through the soil & paper layers and place plants in desired locations
Cover the area with a thin layer of bark and wood chips for a beautiful finished look 

If you are wanting to plant drought tolerant grasses:
Prepare the area by removing unwanted rocks and debris
No need to de-weed! The paper goes directly over weeds or grass (best to trim if weeds are over 3" high)
Cover entire planting area, (1 layer should be sufficient, 2 layers if over thistles)
Use sharp scissors to trim product to your garden space: it's easy to trim the paper to fit around trees and shrubs
Cover the area with a 1.5" layer of weed free soil mixed with compost; inexpensive top soil is ok as long as it is weed free
Broadcast drought tolerant grass seed over the entire area 
Water lightly to keep soil moist and germinate the seed