Home Garden & Allotment - Items tagged as "Garden"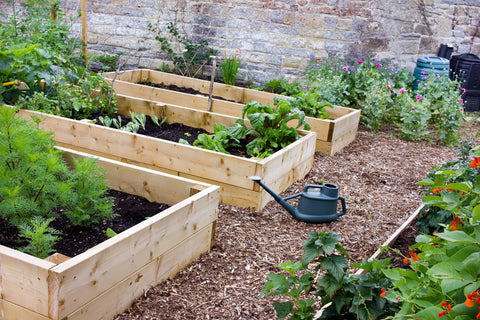 Have More Time to Enjoy Your Garden
Mulch Organic is the natural choice for home and urban gardeners. It's heavyweight thickness stops weeds all season long but also allows air and water to permeate. Weeds rob your plants of water and essential nutrients. Mulch Organic is 100% opaque while offering superior porosity to water, air, and the nutrients your plants need. With Mulch Organic, no weeds can grow but your plants thrive.
Mulch Organic is easy to use and visually pleasing: the earth-brown colour disappears into your garden. It is available in individual in three different dimensions to fit the needs of your garden or plot.
WHY SPEND YOUR GARDENING HOURS ON WEEDING?
Is 100% opaque: no weeds can grow
Allows water, air and nutrients through to the soil
Promotes stronger, earlier plant growth
Helps extend your growing season
Is 100% biodegradable.
Application is simple and easy. Mulch Organic  gives you a great return on a little labour before the growing season begins. Click on our easy-to-follow application instructions below, and take a look at the photo gallery for additional tips.
Give the environment a helping hand. Mulch Organic is made from renewable resources, uses zero petroleum, and eliminates the need for herbicides. It's the perfect eco-friendly alternative to black plastic.
Would you like to weed less and grow more? Do you want your garden to thrive, while reducing the amount of work for yourself?  Do you prefer to grow organically, without pesticides and plastics?
Then Mulch Organic is for you! This biodegradable paper weedblock offers many advantages:
Saves Time and Money. With Mulch Organic, you spare yourself endless hours of weeding, giving you more time to enjoy your garden. And unlike black plastic, you don't have to remove and dispose of it at the end of the season. Mulch Organic decomposes naturally over the course of the growing season, adding beneficial organic material to the soil – with no work on your part!
Helps Plants Thrive. With Mulch Organic your plants thrive without competition from weeds. What's more, the porous material allows water, nutrients and air to pass through easily. Unlike black plastic, soil temperatures remain moderate and roots aren't overheated. The result: happy plants!
Benefits the Environment. Mulch Organic is OMRI Listed and 100% biodegradable. It's the natural alternative to black plastic.
See our How to Tips using Mulch Organic.