Green House & PolyTunnel - Items tagged as "Garden"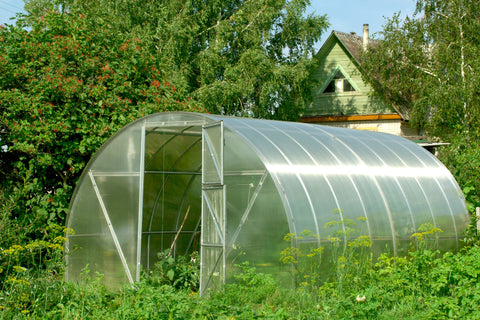 Green houses and poly tunnels  provide ideal growing conditions – not only for plants, but for weeds, too! Once they blow in through open doors or piggy-back on plants or equipment, they can thrive. They'll compete with your crops for nutrients, moisture and space.

If you're looking for an eco-friendly solution, rule out black plastic and chemical herbicides. And manual weeding is both expensive and time-consuming.
The answer: Mulch Organic. Our biodegradable paper weed block is effective, affordable, and especially well-suited to high tunnel and hoop house growing.
Overhead Watering. Unlike black plastic, which requires drip irrigation, porous thick paper allows for overhead watering. It's specifically formulated to maintain its integrity even when wet.
Healthy Root Development. It's porous nature also allows for healthy root development, unlike black plastic that can "cook" roots, especially with the elevated temperatures of controlled growing environments.
100% Biodegradable. Mulch Organic slowly decomposes over the course of the growing season. After you harvest, it can be incorporated right into the soil, adding beneficial organic matter. What's more, you save on the costs of removing and disposing of black plastic.
A Choice of Options. We offer a variety of products for different needs. Those of greatest benefit to high tunnel and hoop house production include: